W
ith 18 years in the printing business we enjoy helping you create conversations, promote your event, identify yourself when you arrive at a customers home. Pick a shirt from the catalog below and get started designing
Who Is Custom Screen Printing For?
---
---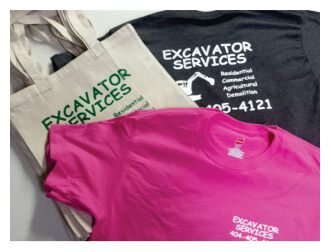 Are you easy to identify in the field or on a job site? Is your office staff easy to identify and feels like part of the team as they work to support your business behind the scene? If you are a Plumber, General Contractor, Electrician we are here to help you promote and advertise your business with branded t shirts, polos, corporate wear, and more. Click get a quote to contact us and lets get started.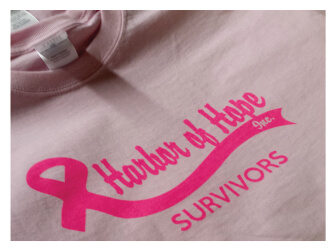 Do you need team t-shirts for a charity event? We've printed t shirts for the March Of Dimes, Relay for Life, 5k, Fire explorer events, if you need shirts for an event click the contact us button and get a quote from us today. We would be happy to support your cause.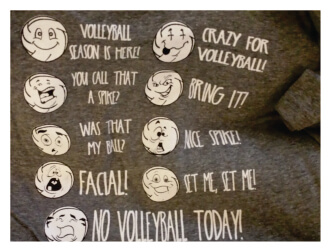 T Ball or little league shirts, team mom or parent shirts, football tees, soccer, volleyball, softball t shirts, class of 2018 shirts, yearbook staff t shirts, spring break t shirts. We've printed them all. Send us your ideas and we will give you a very competitive quote. Click the contact button below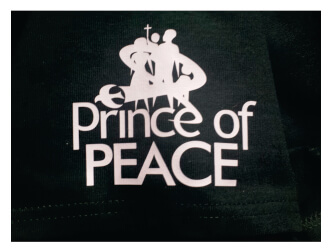 Do you have a missions trip coming up? Or a church play, family group missions trip, summer camp or a teen retreat that you want to print t shirts for? We've got you covered! Click the contact us button below for a quote a quote and let's get you on the road for your next adventure.
FAQ
Below is a list of Frequently Asked Questions to help answer all your screen printing questions
Can you print sleeves? The Hood? How About A Leg?
We can do that! Names, titles, or custom printed areas are available.
We've printed on hoods, jacket sleeves, legs, and a variety of other locations, when you place your order let us know what your thinking and we will give you a quote
How Much Do You Charge?
Long Answer: There are many factors that go into pricing your t shirts:
The Brand: – not all tees are created equal.
The Style: – V neck, Scoop, Ladies Cut, Unisex T Shirt,
The Print Location: – Front Only, Back Only, Small Front & Large Back Print, Sleeves, Legs, Sides of Shirt,
Design Details: One color print will be cheaper than a four color two location print
The Amount of T Shirts One verses 5,000
We will work with you to determine the most cost effective method for finishing your project.
The Short Answer: Our most common order is 18-48 shirts, with a single color front and back print on a light colored Hanes or Gildan brand shirt for $8 per shirt. Dark colored shirts are $10.
How Fast Can I Get My Order?
Our turnaround time is typically 7-10 business days from the date of final artwork approval. (the majority of our jobs are completed in less than a week) We can offer print jobs in less time as our production schedule allows.
Turnaround times can be lengthened due to last minute or frequent artwork changes, printing challenges with client-submitted artwork, shirt color changes, delay in approval of final artwork.
We always seek to minimize turnaround time so you can have your items as soon as possible. One of the best ways to ensure your order is ready in time for your event is to order in plenty of time prior to your event.
Do You Do Rush Orders?
Of course we can move you to the head of the line, for an additional fee. And you will also be responsible for rush shipping charges if we expedite the delivery of your items.
We try our best to be accommodating and get all orders out as quickly as possible, in the order that they are approved. But time slips away from all of us and we will be glad to help. State that you need a rush order in the contact form and we will take care of you.
Can I See My Design Before You Print?
Yes, we actually require your approval of the final art work before we print via email, to ensure that we print your shirts accurately so please review your proof carefully.
Note the placement of artwork on the mock proof, size dimensions, spelling, spelling, and did we mention, please check spelling. Be sure to check website addresses, e-mail addresses, mailing addresses, and phone numbers in your design for accuracy. We are not responsible for error or omissions found on an approved proof.
What type of printing is available?
We offer several different types of printing, and will work with you to determine the most cost efficient method to suit your specific needs. Die cut vinyl is great for short runs, and personalization. Traditional screen printing is great for medium to large quantities and offers the greatest durability. Digital vinyl is perfect for short runs that require photo quality prints. 4 color process transfers are for larger quantities that require near photo quality.
I Only Need 1 Shirt, Do You Have an Order Minimum?
Sometimes you have a funny idea for a shirt and only want one or two for yourself or a friend. Perhaps you need a dozen shirts for a bachelorette party, rehearsal dinner, family reunion, your kid's team or some other small group. Maybe you need a couple of hundred shirts for a fund raiser, or your business. With our printing capabilities we have the ability to print 1, or a 1,000.
Do You Charge Other Fees?
We do not. You will pay for your shirts and shipping. If you require a pass to the front of the line, a rush job/ rush fee (see FAQ Do You Do Rush Orders?)
Long ago, storage fees or clean up fees were part of the cost of purchasing t shirts. That's ssssoooo old school. And now it's something we all throw into our FAQ's.
No Surprise Fees here, just straight forward small business, hard work and quality prints you can feel good about
Have An Idea, You Want To See In Print, Don't be shy get in touch!
If you are interested in working together, send us an inquiry and let's get started today